Last Updated on 18th September 2020 by Emma
What is the best cheap food to buy when broke?
You have so little money but you've still got to feed you and your family so you need a lot of food for cheap as possible.
Free would be great but not usually possible!
When you are broke you need to buy food as cheaply as possible but what to buy?
My grocery budget was always the place I tried to cut down on when times were hard.
With so many food choices out there you can always buy something cheaper.
But finding the cheapest healthy meals and food to buy on a tight budget can be hard.
What can you buy that will fill your family up yet still enable you to eat well?
You don't want to be eating crap, you need healthy foods that fill you up and taste great.
Otherwise you'll blow your budget by buying something extra because your taste buds aren't satisfied.
I know I had to fight hard against buying cheap processed food.
It looked good on my small food bill but it didn't taste great and I knew it wasn't the right healthy food for my family.
I cut processed food out of my food shopping list and focused on finding and buying healthy food.
It did mean a little more effort in finding the right recipes and cooking time.
But you know it's worth it when your family eats healthily and aren't constantly looking for extra snacks.
(Discounting teenagers who are seemingly always hungry!)
Cheap Food To Buy When Broke
Your grocery budget is one of the few places where you can really cut costs right down when times are hard.
When you are broke you have so many bills that need paying that there can be very little left.
If you can focus on dirt cheap meals for a month or two then the savings you make may well help you stop feeling so broke.
In order to do that what you need is a master list of cheap food to buy when broke that you can refer to and use to meal plan.
With the list of cheap foods below you can make dozens of great meals.
Below your master grocery list I've also listed 12 recipe suggestions to get you started.
If you haven't cooked with dry beans before please do read the packets, almost all need 12 hours of soaking time.
Meal planning on a budget requires planning ahead so you know what ingredients you need for your meals ahead of time.
Use this master grocery list and the recipes for broke and hungry people to plan your meals for the next two weeks and see how much you can save.
For more recipe inspiration check out this mammoth post of 55 cheap and easy meals: 55 Cheap And Easy Meals You Are Going To Love.
Top Tip – Subscribe to the 7 day Grocery Budget Bootcamp and learn how to take back control of your spending on groceries in just a week!
Your Ultimate Broke Grocery List
(This post contains affiliate links. If you click on a link and make a purchase, I may make a small commission at no extra cost to you. You can read more here)
Every item on this grocery list will help you eat cheaply and healthily.
You won't need to buy every item on this broke grocery list every week or month.
If you buy a selection of these cheap foods each week then you have the makings of a great food cupboard for future weeks.
I would encourage you to start a little pantry stockpile.
Add something long life from the list below that won't be used up in the coming week.
Having a small pantry stockpile helps you plan ahead for busy nights.
Stick to this grocery list whilst you are feeling the pinch and you'll be amazed at how low your grocery bill will get.
If you need are looking to find ways to save money in other areas and live more frugally then these posts will definitely help:
How To Be Frugal: 200+ Best Frugal Living Tips To Try Today
11 Extreme Frugal Living Tips You Should Try
Best Stores To Buy Cheap Food
The best stores to buy a lot of food for cheap will be subject to your local area.
If you have an Aldi or Lidl or another discount store then they are a great place to often buy cheap food.
If you have a warehouse type store like Costco nearby then you could save money shopping there.
When you are broke and every penny counts it often works out cheaper if you split your grocery buying.
Each of your local stores will have loss leaders – highly reduced products designed to draw you in to shop there and buy other things.
Do your research and work out which store is the cheapest for each item on your shopping list.
When every penny and every cent counts, it is worth crossing the road to another store if you can save money.
When our money was really tight I regularly shopped in 3 stores each week. All on the same day, one after the other.
I was lucky that I had a few stores all within 2 miles of each other to choose from.
It is not worth driving miles between stores if that is your only choice. You'll potentially pay more in petrol than you save on groceries.
Related post: How To Build A Stockpile Quickly
Quick Money Tip
Scan Your Receipt Through Fetch
Fetch Rewards is a free grocery savings app that rewards you just for snapping pictures of your receipts. That's really it.
It won't reduce your grocery bill but you get free rewards on groceries on thousands of products every day, no matter where you get your groceries.
No hoops to jump through.
No pre-selecting offers, no scanning barcodes, no surveys, no ads – you scan your receipts and you'll earn points!
Use code "APREWARDS" to redeem 3K points!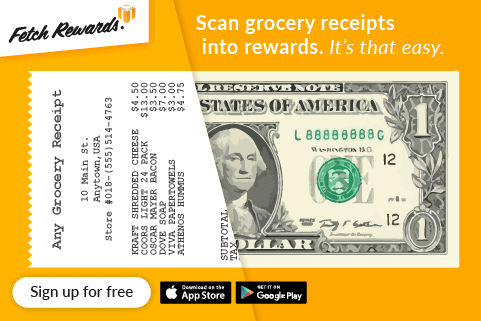 In The UK? Scan Your Receipts Through Storewards
Storewards works in the same way as Fetch, all you need to do is snap pictures of your receipts.
Even better though, it allows receipts from all purchases made (in-store and online), up to 20 receipts a week, not just groceries. Plus you get a daily bonus just for logging in.
Use referral code l8iph to get 250 bonus coins when you sign up today.
Your Questions About Cheap Food To Buy When Broke
What should I buy at the grocery store when broke? Check out my list of the best cheap food to buy when broke as your starting point.
When you have only a tiny budget choose the absolute cheapest food.
It might mean temporarily eating a lot of beans and rice but if it stops you from getting into debt that's got to be a good thing right?
What is the cheapest food you can buy? This will depend on your local stores.
If there is a really cheap loss leader in your store that works out the cheapest food to buy then buy that.
Rice, oats, noodles and pasta are all super cheap and can be almost meals in themselves when you have to make do.
What can I do if I have no money for food? In many counties and countries there is help available from food banks and charities that can help you if you literally have no money.
These can often supply you with a few days worth of food to keep you going.
Do please contact your local help if you are struggling, that is why they are there. To help you.
How can I spend $10 a week on groceries? For one person this could be doable. But it would be very repetitive and not the healthiest of diets.
Choose cheap foods like rice, potatoes and oats.
A couple of cans of beans and you can make very basic meals for a week from these.
If you've already got a couple of herbs and spices all the better.
Because plain rice is well, plain!
The Cheapest Foods To Buy On A Budget
Cheap food to buy in bulk is the best of both worlds as you get a lot of food for cheap money.
Luckily many of the food items below are available in bulk, even from your local grocery store.
Rice can often be bought in 5kg bags, pasta in 3kg bags, as can oats, rolled or steel cut.
There is a saying that if you want to save serious money then live like a college student.
I'm not advocating a change of lifestyle but cheap foods for college students can also be cheap foods for you.
Protein
lentils (red, yellow, green or brown)
dry beans (kidney, black eye, haricot, chickpeas)
Canned baked beans
eggs (free range if you can although caged eggs are cheaper)
chicken thighs
chicken legs
whole chicken
sausages (own brand but not value brand)
tinned tuna
peanut butter
block cheese (often cheaper than grated)
any meat reduced to under £2 a kilo (e.g. pork, minced/ground beef)
Carbohydrates
rolled oats
brown rice (healthier than white)
whole wheat pasta (healthier than white)
wholewheat bisks (non-branded weetabix)
wholemeal bread (healthier than white)
breakfast cereal (focus on the bran ones)
Come and follow me on Pinterest for more money saving hints and frugal tips!
Fruit and Vegetables
canned tomatoes (chopped or whole)
apples (whichever variety is on offer)
oranges
bananas (buy smaller ones to get more servings)
cabbage
swede
lettuce (iceberg tends to be cheapest)
potatoes (whichever variety is cheapest)
carrots
white onions
broccoli
pumpkins (in Autumn/Fall they're almost free!)
garlic
frozen mixed vegetables
home grown vegetables and fruit of any type
Miscellaneous
flour
sugar
seasonings/condiments inc salt, pepper & dried herbs
milk (fresh or powdered)
Top Tip – Subscribe to my FREE Resource Library and download a copy of the 30 best frugal pantry staples, 12 frugal meal ideas and more!
12 Meal Ideas For When You Are Broke And Hungry
When you are broke and hungry, recipes that give you a lot of food for cheap money are exactly what you need.
I've listed below some dirt cheap meals that won't break your budget and will fill you up.
These meals are all designed to stretch the meat content and pad out with cheaper grocery items such as beans, lentils and vegetables.
Because these have lots of vegetables in them and whole grain carbohydrates they are some of the cheapest healthy meals you can eat and will keep even the hungriest person filled up.
You want cheap food to buy when broke, not expensive things that mean each meal costs a fiver.
Many of these dirt cheap meals will cost less than a pound or dollar per person.
Especially if you go easy on the meat portions and fill up on cheap vegetables and carbohydrates.
Jacket potato with baked beans (don't buy special 'jacket' size potatoes)
Vegetarian bean chilli and brown rice
Chicken curry and brown rice (use leftovers from a whole chicken)
Sausage & tomato pasta bake (use ½ pack sausages to reduce cost further)
Sausages and mashed potatoes (heavy on the mash, light on the sausages)
Chicken thigh casserole with dumplings (try 1 thigh per person to keep cost down)
Bacon, potato and onion pie (1 or 2 rashers per person)
Tuna pasta (1 tin can stretch to 4 people)
Lentil soup and wholemeal bread
Omelette and stir fry vegetables
Poor man's kedgeree (use tuna instead of smoked haddock)
Home made pizza (make your own pizza dough)
For more cheap healthy meals have a read of these posts:
10 Frugal Meals For When You Feel So Broke
55 Cheap And Easy Meals You Are Going To Love
The Best Cheap Food To Buy When Broke
I hope this master list of cheap groceries will help you plan some great frugal meals and help you save some serious money on your groceries.
Being broke and trying to feed your family can be a challenge, but it's a challenge you can win when you know the right healthy frugal foods to buy.
Top Tip – Subscribe to the 7 day Grocery Budget Bootcamp and learn how to take back control of your spending on groceries in just a week!