We all need cheap and easy meals to feed our families when we have more month than money.
But finding cheap dinner recipes that everyone likes can be difficult at times.
The more mouths you have to feed the more difficult it can become.
Then there are the times when your inspiration is running low.
When you want to come up with cheap easy healthy meals to fill everyone up but your creativity has totally deserted you.
Using my go to list of cheap and easy meals below makes your meal planning so much easier and will really help you to save money on your groceries.
Related post: 40+ Cheap And Easy Savory Snacks To Make At Home
(This post contains affiliate links. If you click on a link and make a purchase, I may make a small commission at no extra cost to you. As an Amazon Associate I earn from qualifying purchases. You can read more here)
Be Choosy About Your Meals
As I explain in my post all about meal planning, choosing which foods to buy should be influenced by what is on offer at your local grocery store.
Always factor in meatless meals as these really can be extremely cheap meals.
Additionally don't plan meals based on beef if chicken is on special offer.
If you can't steer your family away from meat or you are focused on keto or paleo diets then be flexible with the meats you use.
Meat on special offer is perfect for being frozen for later use.
Focus on the cheaper meats that I detail in my post on the best cheap foods to buy when broke.
If you don't already have a crockpot/slow cooker then I cannot urge you enough to get one.
Some of the cheapest and easiest meals you can make are crockpot meals.
They are also perfect for when you are busy as you can prepare meals before work and have it ready when you arrive home.
Perfect! For families I always recommend a large crockpot. You can batch cook meals for the whole family so you cook once and eat twice.
Below are my recommendations for crockpots for all family sizes. Although we are now a family of two, we still use our large crockpot because of the versatility it gives us. Whole chickens or bulk cooking are easy when you have a large crockpot.
Best Slow Cookers/Crock Pots For One Pot Meals
Slow Cookers (or Crock Pots) are the perfect tool for many of the tastiest one pot meals. Dump your ingredients in, go to work and come back to a tasty dinner.
These are some of the best slow cookers you can get. Choose the one that suits your family best.
A 6 quart cock pot with digital timer and keep warm function. With a locking lid this is perfect for cooking at home and taking someplace else.
A smaller 4 quart round slow cooker perfect for one family meal or a two person batch cooking session. No clearing up with dishwasher safe inner pot and lid.
This 10 in 1 pot cooks everything you'll every want in just one pot. A pricier option but perfect for smaller kitchens and those who prefer multi use tools.
This lovely red slow cooker has carry handles and a locking lid for easy moving. Plus who wouldn't want this stylish pot on their counter top?
Scan Your Receipt Through Fetch
Fetch Rewards is a free grocery savings app that rewards you just for snapping pictures of your receipts. That's really it.
It won't reduce your grocery bill but you get free rewards on groceries on thousands of products every day, no matter where you get your groceries.
No hoops to jump through. No pre-selecting offers, no scanning barcodes, no surveys, no ads – you scan your receipts and you'll earn points!
Use code "APREWARDS" to redeem 3K points!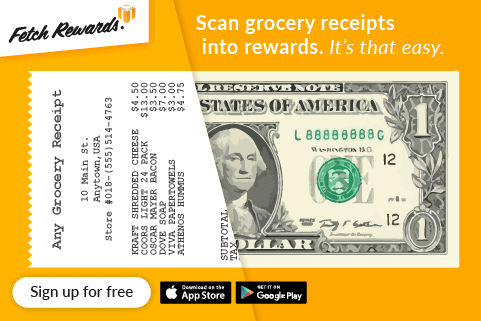 Get your free meal planning meal bundle so you can organize your favorite cheap & easy meals and shop for them with ease
Cheap and easy healthy meals are the perfect combination. They help you save money and they're healthy.
Choosing the right tasty recipes can result in extremely cheap meals costing less than $1 a person – perfect for the tight times.
39 Cheap And Easy Meals On A Budget
Cheap and easy dinner recipes is what you need when you are living on a super tight budget. Some of these recipes work out at less than $1 a portion! Keep these for those extra lean times when your money has dried up.
For even more cheap meaty recipes check out my post on cheap chicken dinners.
Pin this to your Pinterest boards for later so you always have these recipes to hand!
Meatless Monday seems to be gathering momentum but don't limit yourself to Mondays, choose any day that works for you.
Twice a week is great for your purse. Check out the 10 cheap vegetarian recipes below for meatless dinner inspiration.
Want more vegan inspiration? Check out my post on easy cheap vegan recipes.
11 Vegan And Vegetarian Cheap And Easy Meals
Vegan and vegetarian food covers a huge, diverse range of flavors and cuisines. They are often cheap, easy AND healthy meals which are all bonuses when you are trying to find cheap recipes to feed your family. These 10 cheap dinner recipes will have you coming back for more and who can blame you when they are so tasty?
Photo Credit: thecuriousfrugal.com
This easy vegetarian lasagna recipe is cheesy, comfort food goodness. A truly frugal recipe, we use a few smart shortcuts to save time with the end result being an easy dinner that is kid-approved.
Photo Credit: mamalikestocook.com
The simple recipe calls for basic ingredients that I encourage you to keep on hand. It only takes a couple minutes of prep time and then your crock pot does all the work.
Photo Credit: recipesfromapantry.com
5 Mins Air Fryer Pita Bread Pizza is just the thing to serve up as a quick and easy weeknight supper, kid-approved snack or weekend lunch. All it takes is 3 everyday ingredients and almost no effort to enjoy delicious cheesy pizza goodness. Suitable for vegetarian diets. Post includes Weight Watchers points.
Photo Credit: mooshujenne.com
This Vegetable Ramen is one of the meals I use often for lunches or an easy dinner that the family loves. It's a great way for me to get all the vegetables into my teens. When I make this dish they don't seem to care about all the vegetables and all flock to the bowl.
Photo Credit: strengthandsunshine.com
An easy and healthy meatless nugget that the kids will love! Gluten-free & Vegan Chickpea Nuggets that are top 8 allergy-free, grain-free, and have a secret dose of veggies too! A deliciously fun plant-based recipe for little hands at lunchtime or dinner!
Photo Credit: strengthandsunshine.com
A hearty plant-based meal the whole family will love. This gluten-free, grain-free, and vegan Italian Chickpea Casserole is the perfect weeknight meal to nourish the body with classic and comforting flavors.
Photo Credit: littlesunnykitchen.com
Creamy, tangy and spicy red kidney bean curry served over steamed white rice. This frugal dinner is packed with plant protein, so easy to make and ready in under 30 minutes! This curry is vegan and gluten-free.
Photo Credit: www.cookitrealgood.com
Meatless Monday dinner is sorted with this delicious, healthy and hearty Sweet Potato, Lentil and Chickpea Curry. It's an easy one-pan meal that's ready in 30 minutes!
Photo Credit: littlesunnykitchen.com
I love a homemade creamy coconut korma, it's a healthy form of comfort food for me. Whether you follow a vegan diet, or just want to have a meat-free day then you're going to love this vegan korma recipe.
Photo Credit: recipesfromapantry.com
Creamy Instant Pot Tomato Soup is thick, hearty and so comforting. This delicious pressure cooker tomato soup is a healthy dump and start recipe that is made absolutely no oil at all. Suitable for gluten free, low carb, paleo, vegan, and Whole 30 diets. Post includes Weight Watchers points.
Photo Credit: www.tastygalaxy.com
This egg salad recipe is true comfort food! So delicious, simple to make, and healthy! With just a few ingredients needed to make this egg salad, this is truly the best egg salad recipe! Read on to find out exactly how to make it.
Photo Credit: www.bytheforkful.com
This lentil spaghetti bolognese is perfect as a wintery, comforting meal and is also perfect for batch-cooking so you've got lots of leftovers for lunches and dinners for the next few days.
6 Cheap Keto Dinner Recipes
If you follow a keto diet/eating regime then you will love these 6 cheap dinner recipes which are packed full of yummy'ness. If you are not sure what to make for dinner tonight why not try one of these cheap and easy keto meals to satisfy your hunger? Also great for paleo lovers.
Photo Credit: agirlworthsaving.net
No one will be able to resist this burger combination of ground beef, cheddar cheese, bacon, and spicy jalapeno! It's one tasty (and simple) cowboy burger recipe that everyone will love.
Photo Credit: www.wholesomeyum.com
How to make cucumber sandwiches without bread! This cucumber subs recipe is quick, simple, and easy to customize. Like a turkey sandwich without the carbs!
Photo Credit: lowcarbyum.com
These low carb paleo coconut flour chicken tenders are gluten free and keto friendly. Enjoy them plain or dipped in your favorite sauce. Unbelievably good!
Photo Credit: www.wickedspatula.com
An EASY paleo tuna stuffed avocado recipe in just 5 minutes! It comes with a chipotle-flavored, paleo whole30 tuna salad filling. It's even low carb and keto - one of the best stuffed avocado recipes ever!
Photo Credit: www.blessedsimplicity.com
This super easy Crockpot Salsa Chicken recipe will have a delicious dinner on your table in minutes. The recipe makes a great addition to a ketogenic or clean eating menu plan.
Photo Credit: drdavinahseats.com
An easy chicken kebabs recipe perfect for keto & Whole30. Uses a cast iron grill pan, an olive oil marinade, and just a few spices for a quick meal. Can be paired with a salad or cauliflower rice for a very filling meal.
For more help on budgeting and living below your means please do check out these posts.
55 Easy Ways To Save Money In The Kitchen
How To Survive, Thrive And Save Money On A Tight Budget
How To Save Money Without A Budget
How To Budget Your Money When You Don't Know How
Cut Your Budget With Tips From The Experts
Get your free meal planning meal bundle so you can organize your favorite meals and shop for them with ease
Pin this to your Pinterest boards for later so you always have these recipes to hand!
Last Updated on 31st December 2021 by Emma