Last Updated on 18th September 2020 by Emma
I enjoy my food, no getting away from it but when you're looking for extremely frugal meals because your budget is tight.
There is always the worry that your food choices will become repetitive, boring or just downright tasteless.
The good news is that cheap meals for when you are broke absolutely do not need to be boring!
You can create dozens of tasty meals using the best cheap foods for when you're broke.
Or you can get creative with what you already have in your cupboards.
My go to frugal food usually involves my slow cooker (crock pot) mainly because it's so easy.
And I get to cook double (or more) quantities in one go, making dirt cheap meals for the freezer.
Whereas Mr2p prefers frugal food that he can have on the table within a short while.
I'm not complaining – he's cooking!
(This post may contain affiliate links. You can read more here.)
I have
this large slow cooker
. Bought specifically so I could do big batches of our favorite dirt cheap meals and whole chickens. A small
slow cooker
just doesn't give me the flexibility I like.
You may also like:
When Money Is Tight, How to Enjoy A $35/£30 Grocery Budget For 2
13 Killer Ways To Save Money On Groceries – Save Hundreds Every Month
67 Cheap And Easy Savory Snacks To Make At Home

Quick Frugal Tip x2
Scan Your Receipt Through Fetch
When you've bought your ingredients for your meals, take 2 minutes to scan your receipt.
Fetch Rewards is a free grocery savings app that rewards you just for snapping pictures of your receipts. That's really it.
It won't reduce your grocery bill but you get free rewards on groceries on thousands of products every day, no matter where you get your groceries.
Just scan your receipts to receive rewards.
Use code "APREWARDS" to redeem 3K points!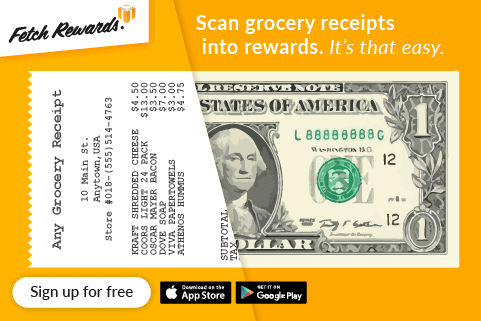 In The UK? Scan Your Receipts Through The Storewards App
The Storewards app works in the same way as Fetch, all you need to do is snap pictures of your receipts.
Even better though, it allows receipts from all purchases made (in-store and online), up to 20 receipts a week, not just groceries. Plus you get a daily bonus just for logging into the app.
Use referral code l8iph to get 250 bonus coins when you sign up today.
Download your free copy of the Meal Planning Mini Bundle here
10 Frugal Meals For When You Feel So Broke
Image credit: Happy Kitchen Rocks
One of my favorite slow cooker frugal meals is a hearty chili.
But recently I've tried to incorporate more beans and pulses in our diet in an effort to reduce our meat consumption.
This vegan chili is absolutely gorgeous and you totally do not miss the meat.
In fact I think I prefer this to a meat chili now!
Healthy frugal dinners never tasted so good and using dried beans reduces the cost even further.
I'm not a fan of yogurt with a bowl of chili so I miss that out and save a few more pennies.
A slow cooker full of this will provide us with 4 or 5 freezer meals so saves time in future weeks.
Image credit: I Heart Frugal
For meat loving fans like Mr2p you can't beat a meaty chili.
Despite my best efforts to sing the praises of the bean chili above, Mr2p prefers a meat based one. This recipe is super easy.
If Mr2p is making it he does so on the hob and he'll likely wander from the recipe a little adding in mushrooms if we have any.
However when I'm in charge I deviate from this recipe by throwing it in my slow cooker.
It's a delicious frugal meal that I love to come home to on a cold winter's evening.
Come and follow me on Pinterest for more money saving hints and frugal tips!
Image credit: I Heart Frugal
I love how we use the same base language yet British and Americans use such different wording to describe the same thing.
Here in the UK I would know this recipe as tuna pasta not noodle.
But hey, I'm not complaining because tuna pasta is one of my favs!
For added crunch I crunch up crisps, add cheese and bake in the oven for 10 minutes – delish!
Make it even cheaper by substituting the tinned soup for a cup-a-soup sachet.
If you forgo the cheese you can feed 4 people for less that a pound!
That's my definition of a dirt cheap meal!
Image credit: the curious frugal
Lasagna is Mr2p's signature dish. I've never made it and have no intention of starting now.
Lasagna combines so many ingredients that you can get for pennies if you choose the right brand or type.
Mince, tomato sauce, lasagna, cheese and a white sauce.
Mr2p never follows recipes so I have found this one which is pretty darn close to his yummy concoction.
Served with a salad or seasonal vegetables and you have a very filling frugal meal.
To make this an even cheaper recipe, stretch your mince by adding lentils and go easy on the cheese.
Image credit: A Sprinkling of Cayenne
This recipe is absolutely fantastic for using up the glut of green beans we get every year from our allotment.
Sometimes I struggle to think of frugal recipes to use them in but once I found this one, I struggled no more.
Combined with reduced price sausages this is an extremely frugal meal that can come in at under a pound for 3 people!
The author encourages you to sprinkle cayenne and seasoning a few times during the cooking process.
I've tried it both with a small sprinkle once and repeated and she is so right.
Season liberally more than once for a seriously full on flavor.
Image credit: A Bride On a Budget
There are times when you know you're not going to want a big meal when you get home in the evening.
And sometimes having soup as your main meal, coupled with some crusty bread is just enough.
With the added bonus of being an extremely frugal meal!
This hearty soup recipe doesn't use meat so further reduces your cost (although it has chicken stock as its base).
I tend to forgo the sour cream as it is not a staple in our fridge and this helps make the soup meal dirt cheap.
And here in the UK we don't have 'half and half'.
I always use full fat milk instead, sometimes with a dollop of cream but often not because if it ain't in the fridge, I can't use it!
Image credit: Two Healthy Kitchens
Another difference in the use of language is tacos and fajitas.
Here in the UK we use fajitas to describe soft, flour wraps, whereas in the US it's more normal to use tacos.
Fajitas/tacos were a firm family favorite when DD2 was younger but it was always a bit of a faff cooking the meat, prepping the toppings so we didn't have it very often.
Now I've found this cheap meal of yummy frugal food we are having fajitas more often as they taste great.
No more faffing with cutting, browning and cooking the chicken.
Image credit: Creative Southern Home
You can't get any easier than 3 ingredients can you?
This should be one of your go to extremely frugal meals for when you are feeling the pinch.
Pasta, tomato sauce and cheese, pop in the oven and you have one tasty cheap meal for literally pennies, perfect for when you're feeling broke.
I tend to throw in some frozen peas and sweetcorn to elevate its healthiness still further but it tastes just as yummy without.
Image credit: Mom Foodie
This is a fantastic recipe because it combines using my slow cooker, minimum effort and chicken thighs which are one of the cheapest chicken cuts you can have.
Chicken thighs are so tasty cooked slowly so the meat is falling off the bone.
The flavor permeates throughout the other ingredients.
I'll be honest, I miss out browning the thighs in a frying pan and put everything straight in the slow cooker.
It's minimalist cooking, or lazy cooking!
By cooking this in my slow cooker I can get away with just one thigh per person and bump up the potatoes.
By combining this with buying chicken thighs on offer you can make this an extremely cheap meal for a large family.
Image credit: Whole Lotta Yum
I found this frugal meal idea when I was researching what an Instant Pot was (they aren't such a thing here in the UK so I didn't know!)
I don't have an instant pot but bratwurst/sausages in beer sounded right up Mr2p's street so I had to try it out.
Without an Instant Pot I improvise and use my casserole pan and it works just as well I think.
If I'm feeling very broke I use sausages I pick up reduced price and freeze.
Image credit: Snappy Gourmet
This yummy frugal meal is low carb but super tasty and so easy to prep.
I'm not a fan of meat on it's own as I prefer a little sauce with my meat which this recipe has just enough of.
The meal is nicely filling with the high protein content yet still pretty darn cheap.
Especially if you use frozen chicken breast and ordinary cheddar rather than specialty cheese or mozzarella.
Image credit: Pink Fortitude
Finally, if you are looking for help in frugal meals for a week when you've got little money left until payday this 3 day meal plan on a budget could get you started.
These aren't just cheap meals, they're meals for when you are on a tight budget.
Can't get better than that.
As an Amazon Associate I earn from qualifying purchases