Meal planning on a budget?
You've probably seen and heard about meal planning previously and wondered what all the fuss was about.
Well let me tell you – meal planning is one of the best tools you have to cut your grocery budget.
When you have a meal plan that works for your family, you save time and money.
Time – you no longer waste time trying to work out what to make for tonight's dinner, you get home and get started.
Money – no longer will you need to resort to takeout or drive thru because you cannot decide what to cook.
Maybe you aren't sure why so many advocate having a meal plan and worry that actually you will end up spending more every week.
When you become an expert at meal planning on a budget (and you will) then honestly, you will cut your grocery bill and spend less money each week.
If you are struggling with money right now then your meal planning prep will help.
It can be a tad more difficult to achieve the great savings straight away but I promise you'll make savings from week one.
You may also like:
7 Meal Planning Strategies All Beginners Should Know
9 Meal Planning Mistakes You Need Solutions For
Cheat Sheet Shortcut To Meal Planning
(This post contains affiliate links. If you click on a link and make a purchase, I may make a small commission at no extra cost to you. As an Amazon Associate I earn from qualifying purchases. You can read more here)
You do not need a meal plan subscription.
It is totally doable to create your own meal plan, ingredients list and grocery list.
But meal plan subscriptions make life so much simpler – someone else doing some of the hard work for you.
If you think meal planning sounds complicated ad worry you won't keep it up then I urge you to consider the $5 meals plan.
For just $5 a month you not only get a weekly meal plan, you get a grocery list of all the ingredients you will need to make those meals.
That's less than $1.25 a week to ensure you have home cooked food and the right ingredients (but no more) every night.
Given we can waste up to 30% of all the food you buy, $5 a month for recipes and a grocery list emailed to you every week will definitely save you a ton of money over the next few months.
There is also a 14 day FREE trial to kick start your money saving if you use this service.
Oh, and if you are in the UK you can definitely use this!
Quick Money Making Tip
Scan Your Receipt Through Fetch
Fetch Rewards is a free grocery savings app that rewards you just for snapping pictures of your receipts. That's really it.
It won't reduce your grocery bill today but you get free rewards on groceries on thousands of products every day, no matter where you get your groceries.
Just scan your receipts to receive rewards.
Use code "APREWARDS" to redeem 3K points!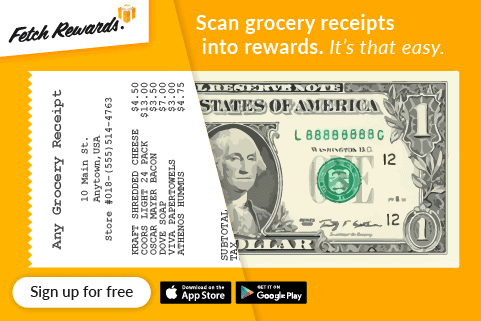 The Basics for Meal Planning On A Budget That You Need To Be Successful
1. Take The Emotion Out Of Your Meal Planning Prep
I don't know about you but I can quite easily think about meals in terms of "what do I feel like having?"
When you are meal planning on a budget, what you feel like having is not part of the equation.
Your meal plan will be based on ingredients and cost.
You can of course switch around your meals within the week if you "feel" like it.
2. use your freezer
Fill your freezer with cheap ready meals and you will never go hungry or not have a delicious meal to eat when you get home late.
Of course I'm not talking shop bought ready meals, I'm talking meals you have prepared yourself for busy nights.
But what to make, and how to save time both during the week and on your precious days off?
This is where Myfreezeasy can help, it is a personalized freezer meal plan to suit your time, tastes and budget.
It's about making 10 meals in just one hour!
With recipes that require little to no pre-cooking, you can quickly and efficiently get them ready to freeze.
Myfreezeasy meal plans come with videos, shopping lists and simple to follow directions to get your bulk meal prep done in no time at all.
Pick your own freezer-friendly recipes and serving sizes so you are only making what your family needs.
Myfreezeasy is not a done for your meal plan, it's a program where you are always in control.
Choose the freezer meals you want to prep on the mobile app with their simple drag and drop tool.
All the freezer meals are budget friendly recipes.
But not only are they budget friendly, having a stash of freezer meals means you need never resort to takeout and you cut right back on food waste.
You can try Myfreezeasy for free when you join the Freezer Cooking 101 Workshop.
When you join the workshop you will also get a free sample freezer meal plan to try it out for yourself.
3. Check Out Your Cupboards
Before you start creating a 7 day family meal plan and writing your shopping list, you need to check out what food you already have in your cupboards.
Knowing what you have in your cupboards will stop you from buying what you already have.
There's nothing worse than spending a couple of dollars on an ingredient only to get home and realize you already have one (or more!).
You may also like: Why You Should Eat Your Pantry Stockpile
4. Complete A Pantry Inventory
Writing down every ingredient that you have in your store cupboard is the best way to plan to use what you have when it comes to meal planning recipes.
It will help you identify what ingredients you will need to buy this week in order to complete your menu plan.
Cheap meals for a week for a family are totally doable if you start with your pantry and what you already have.
13 Killer Ways To Save Money On Groceries
5. Check Out The Sales
I am of course not advocating that you go sales shopping! More that you know what items are on a deep discount this week.
Always buy the loss leader of the week and plan your meals around it.
So if chicken is deeply discounted you will want your meal planning recipes to include chicken to make use of the cheap product.
You don't want to plan a menu based on beef when chicken is cheap.
Once you know what is on sale you can choose your recipes.
I have found this is one of my best tips when it comes to creating a cheap healthy meal plan for two.
And it was invaluable when I was focused on a 7 day family meal plan when my girls were both still at home.
You don't need to eat all the meals you make with your cheap deals – you can either batch cook and freeze left over portions.
Or miss out the cooking and freeze the loss leaders straight away.
When Money Is Tight, How to Enjoy A $35/£30 Grocery Budget For 2
6. Meal Planning Recipes
You know what ingredients you already have. You know what products are on a deep discount sale.
Now you can create a 7 day family meal plan using as many of your existing ingredients and the discounted products as possible.
If you are going to meal plan on a budget there is an emphasis on the budget.
Choosing recipes that use what you already have means you will spend less that week.
My budget meal planning for 2, now the girls have left home, often involves at least 2 meals made purely from ingredients I already have in my pantry.
After all, I've already spent the money buying what's in my cupboards so it makes sense to use it to reduce my ongoing grocery budget.
Related post:
55 Cheap And Easy Meals You Are Going To Love
10 Frugal Meals For When You Feel So Broke
Top Tip – Subscribe to my free 7 day Grocery Budget Bootcamp and learn how to take back control of your spending on groceries in just a week!
You can use meal planning apps and websites like:
Supercook – App or web based. Select the ingredients you have in your cupboard and Supercook will suggests recipes. You can then refine your results by meal type.
Quick & Easy, Slow Cooker and Kid Friendly are some of my favorites. But you could choose Dinner, Dips or Desserts to name but a few more.
Bigoven – App based, you can sort by ingredients using the Grocery List section. There is also a Use Up Those Leftovers category which has recipes to make reusing ingredients already cooked.
Remember to meal plan all your meals, that's breakfast, lunch and dinner and possibly snacks as well!
7. Your Meal Planning Shopping List
Your grocery list is a list of all the ingredients you need to make all the meals you plan on making that you don't already have the ingredients for.
Remember to add your basic items that might not be part of a specific recipe e.g. tea bags, milk and fruit.
Key to being successful at meal planning on a budget, is sticking to this list.
You've done your home work, you know exactly what you will be eating and what ingredients you need to make your meals.
Your grocery list is everything you need. Therefore stick to the list and avoid impulse buys.
Related post: 18 Things We Cut From Our Food Shopping List To Save Money
8. Grab A Coupon
Now you know exactly what you need to buy to feed everyone for the week/month, try and see if you can get these items cheaper.
Is there an online or paper coupon you can use?
Do you have a loyalty card that offers coupons?
There are apps you can use to get cashback when you buy specific items.
If your grocery list includes these items then you can earn a little money by taking a picture.
Swagbucks is a universally recommended app. You can earn cashback and gift cards.
Ibotta.com is also apparently good although I haven't used it myself.
9. Plan Your Shopping
Checking prices, coupons and sales will potentially have identified that you can get your groceries for less by shopping in more than one store.
Your planning may also include timing your shopping run.
If you are intending to buy a deeply discounted product there is little point getting to the store 30 minutes before closing.
There are unlikely to be any left!
Lidl sometimes have super weekend offers. If those offers include meat or cheese I know there are likely to be empty shelves after 11am on a Saturday so I plan accordingly.
The same goes for all the best bargains, don't wait until the last day of the offer. Get it quick before there is none left.
Related post: 13 Killer Ways To Save Money On Groceries – Save Hundreds Every Month
Meal Planning On A Budget Will Save You Money
Meal planning on a budget isn't hard.
Whether you are budget meal planning for 2 or for a family of 5, your first time might take a little longer as you get used to the process.
Once you have your cupboard inventory (and keep it updated) then every meal planning session will become easier and quicker.
And remember, if your meal planning doesn't go according to plan then do not give up, invest instead just $5 a month of your food budget in the $5 meals plan.
Using this plan will stop you from reaching out for takeout or eating out and save you money as a result.
Use the 14 day FREE trial to make the most of saving money and see how it works for you.
The key thing is, whichever meal planning route you take you will be saving money!
Subscribe to my free 7 day Grocery Budget Bootcamp and learn how to take back control of your spending on groceries in just a week!
Come and follow me on Pinterest for more money saving hints and frugal tips!
Last Updated on 4th April 2023 by Emma