When you need to cut bills drastically, learning how to save money on groceries is the perfect place to start.
Because when money is really tight, you can cut some of your bills right out, put yourself on a no spend budget and stay in every night.
But you've still got to eat, and have money for a food budget.
And food is often the one thing you have to look forward to when you've cut everything else to the bone.
Let's face it, if you're not going to the movies, not buying clothes, not going out and trying to pay off debt. The last thing you want is to eat basic noodles and rice every night.
We all need something to look forward to in our day even if it is something as simple and cheap as that night's dinner.
I can eat basic food like porridge and a green salad every day during the day. But don't take my home cooked dinner with lots of tasty vegetables away from me!
Good tasting food is brain food. It makes you feel satisfied and happy.
If you don't enjoy what you eat then you are taking enjoyment out of your life and there is no need. Because you can learn how to save money on groceries right now.
And still enjoy eating.
(This post contains affiliate links. If you click on a link and make a purchase, I may make a small commission at no extra cost to you. As an Amazon Associate I earn from qualifying purchases. You can read more here)
Working Backwards – Do This One Thing When You Get Home from the grocery store
After you've save money shopping with all of the following tips (and you will save so much I promise), always take one minute to use the following rewards program.
It's so simple yet so effective in giving you extra for that one minute.
Scan Your Receipt Through Fetch
Fetch Rewards is a free grocery savings app that rewards you just for snapping pictures of your receipts. That's really it.
You get free rewards on groceries on thousands of products every day, no matter where you get your groceries. Just scan your receipts to receive rewards. No clipping coupons!
Use code "APREWARDS" to redeem 3K points!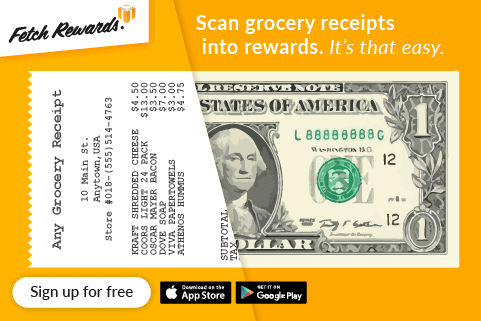 saving money on groceries – the planning stage
Saving money on groceries and keeping more money in your bank account actually starts at home. The key to reducing how much money you spend is taking the time to plan. I'm not talking hours, but just a little focused time on the following strategies will help you slash your grocery shopping budget.
Check out my post about how much should I spend on groceries to help you set the right grocery budget for you.
Meal Planning
The most important part of cutting your grocery bill is knowing what meals you are going to be cooking and therefore what ingredients you need.
If you have a mental block about sticking to a meal plan or creating one then I suggest you use $5 meal plans.
For just $5 a month you get a weekly meal plan and the list of ingredients to buy all done for you.
You can try before you buy with their 14 day risk free trial
Meal Planning On A Budget: 8 Tips For Success
7 Meal Planning Strategies All Beginners Should Know
9 Meal Planning Mistakes You Need Solutions For
Your Shopping list
To keep costs low and be smart grocery shopping you absolutely need a list to avoid impulse purchases. Otherwise you'll be throwing things into your trolley without real thought and will get a shock at the checkout.
use what you have in your pantry
You've already spent your hard earned money on the food in your fridge, freezer and cupboards.
These are the places to start with when you are thinking about meals for next week. One of the cheapest ways to shop is to create a meal plan around what you already have. You won't have to buy so much at the store.
Check the weekly ads
Many stores have loss leaders and you can find these advertised in flyers and leaflets. Use these to help you plan what meals you're going to have.
(Loss leaders are products that they are making no money on, they just want you to spend money with them rather than someplace else).
Freezer meals
Plan on using your freezer to make meals you can pull out and finish off in double quick time.
Freezer meals help you stick to your meal plan because there is so little prep time on your return from work.
Myfreezeasy is a personalized freezer meal plan to suit your time, tastes and budget.
Make 10 meals in just an hour. With recipes that require little to no pre-cooking, you can quickly and efficiently get them ready to freeze.
Myfreezeasy meal plans come with videos, shopping lists and simple to follow directions to get your bulk meal prep done in no time at all.
Myfreezeasy is not a done for your meal plan, it's a program where you are always in control.
Choose the freezer meals you want to prep with their simple drag and drop tool. You can even use their mobile apps to do this. Do your choosing while you are queuing some place else.
All the freezer meals are budget friendly recipes.
But not only are they budget friendly, having a stash of freezer meals means you need never resort to takeout and can stick to your meal plan more easily.
You can try Myfreezeasy for free when you join the Freezer Cooking 101 Workshop. You get a sample freezer meal plan for free!
Learn to say no
When planning your shopping list others in your family might request certain items.
If your budget is tight you will not be able to buy what everyone wants. Be honest and tell them so.
If that fails, get them involved in planning your shopping list and working out the cost. Show them how quickly your shopping can turn into big money.
18 Things We Cut From Our Food Shopping List To Save Big Money
Get your portion sizes correct
I don't know about you but getting the portion size right can be a bit hit and miss.
Get it right and you'll be saving money. Get it wrong and you end up with lots of leftovers, which might not a bad thing if you always eat them.
stock up on cheap food
Focus your shopping list on ensuring you've always got a decent pantry stockpile of budget groceries like pasta, rice, oats and flour.
For an in-depth look at what to buy at the grocery store on a budget and stock up on, have a read of this post:
55 Of The Best Cheap Foods To Buy When You're Broke
avoid chaos in your fridge
An organized fridge allows you to not only see what you still have but be able to access everything and check their best before dates.
A disorganized fridge leads to wasted food. And wasted food is wasted money.
plan on paying with cash instead of card
Cash concentrates your mind unlike paying with a credit card.
A credit card can feel like it's not real money, until the bill hits you the following month, by which time it is too late.
When you pay with cash, you have to physically hand over the money you have worked hard for.
And of course paying with cash means if you only take just enough with you to the store you cannot overspend.
Why You Should Use a Cash Envelope System to Manage Your Money
The Best Cash Envelope Wallet To Help You Love Cash Budgeting
save money on food: Cut right back on these items
Don't buy diet foods
They are expensive and unnecessary. Especially when you're broke. You and I know that the key to losing weight is eating less calories than you burn, whether we like that idea or not!
Buy less red meat
Beef is more expensive than pork which is more expensive than chicken. When you're shopping on a budget, you should plan your meals around the cheaper meats.
Cut down on soda
It costs more than water or cordial so make it weekend treat or special occasion.
Forget bottled water
There is really no need to buy water to drink in the western world. Our water is almost always safe to drink. If you can honestly say your tap water tastes foul then invest in a water filter jug.
tactics to use for saving money on groceries
Going shopping can become something of a military operation. Especially if you have a large family to feed or are focused on monthly grocery shopping.
Not only do you need to be armed with a meal plan and a shopping list. You need these tactics to help you achieve the best prices on the food you buy.
go less often
Limit yourself to doing a weekly shop and see if you can go longer. Some people aim for once every 9 or 10 days. They get a week 'free' each month by doing this.
go alone
Don't take the kids (or the husband). I can't remember ever getting round the shops when accompanied by kids or my husband without spending extra.
When you're learning how to stick to your grocery budget, you don't need the hassle of others adding extra items in.
Create price rules
For many years I had a price rule that for a family of 4 I would pay no more than £1 for the protein/meat element of the meal.
This price rule meant I stretched the meat I did buy to cover more meals and I wouldn't buy if the cost went above the ceiling I had set.
You do need to amend your rules occasionally though!
I realized I hadn't bought any ground/minced beef for 3 months because the price had risen above my ceiling limit.
The family were craving chili and spaghetti bolognese for a long time!
Keep a price book for comparing prices
Many food items have more than one price. The normal price, a slightly reduced price (or rollback price) and a sales price.
Use a price book to compare prices. So you know what your favorite items different prices are and only buy them when they hit the sales price.
Most big box stores have sales cycles so getting to know the lowest price and how often it comes round will save you a ton of money.
Don't shop on an empty stomach
I know you already know this one. When you are hungry everything looks more inviting and your mind tells you to buy more food. Not great when you want to reduce your shopping budget!
buy exactly what you need, and no more
It took me a long time to realize that just because something is a bargain it doesn't mean I should buy large quantities of it. If you're not going to use it, it isn't really a bargain, no matter how cheap it is.
Shop at multiple stores
Many grocery stores have loss leaders designed to entice you into their store. And each store has different loss leaders so they are not in direct competition.
Shopping at many stores enables you to buy the loss leaders at all the stores you visit and get the best price on your groceries.
Set a weekly Grocery budget
You only have a finite pot of money, so create a food budget and make yourself stick to it.
When Money Is Tight, How to Enjoy A $35/£30 Grocery Budget For 2
Use budget grocery stores
If you've got a local budget store like Aldi or Lidl then you could save 20% or more by shopping there. They stock cheaper alternatives of all your favorite foods. Alternatively shop at your local wholesalers like Costco for some big savings.
Shop at certain times of the day
Late night shopping is bad for your budget and not the best way to buy groceries. The cheapest items can often be out of stock so you end up buying the more expensive version.
You're tired so make some less sensible decisions just to get your shopping done and get home.
Try to also shop when it's less busy, there's nothing like a crowd to increase your stress and decrease your ability to think logically.
Try your local farmers market
Some markets can be perfect for finding cheap fruit and veg, especially if you visit them towards the end of the day when they are trying to sell off the last of their stock.
Although you might end up missing out on some key items so be aware.
Discount shops
Use discount shops that sell products past or close to best before date. These can be both online and in your local area.
Understand the dates
All food products have dates on them but with different wording. Best before and use by are the most common ones.
These dates are designed to guide you in how long you have before you need to or might want to eat that item.
But they are not do or die dates. Many people buy products that are past their best before dates from deep discount stores.
Check your local health department for their advice on food dates.
Buy in bulk
Buying in bulk can get you a better price than when you buy a more normal sized packet.
But not always, so you should always check the unit price of the bulk items to see if you really are getting a good deal.
You also need to factor in how much you actually eat of the bulk bought item. Rice and pasta you might get through on a regular basis.
But catering cans of beans? Perhaps not.
Buy in bulk where you know you use a lot of that item AND you can store it safely for a long time.
Want to truly conquer your grocery budget? Join the grocery budget challenge now
saving money on groceries – forget convenience
No salad bags
Plan your salads and sides based on making you own from a head of lettuce, tomatoes, other leaves.
No pre-cut veggies
You're paying twice or even three times the price just so someone else cuts up your food for you.
Best way to save money on groceries? Cut and peel your own fruit and veggies!
Grate your own cheese
Grated cheese usually costs more money per kilo than block cheese. Give your arm muscles a work out and save the money.
Don't be a sucker for character packaging
You know the sort, usually aimed at kids with princesses and heroes on them. These always come at a premium cost for not very much product. When you are shopping cheaply these items need to stay on the shelves.
Forget fruit juice
If you want some of your 5 a day then eat fruit, don't drink it. Fruit juice is expensive and is not great for your teeth if you drink it often.
As I can testify with a mortifying visit to the dentist when DD2 was 8 and needed a filling due to too much apple juice.
Don't buy individual serving packets
For example porridge pots, breakfast cereal multipacks or coffee sachets.
Avoid the snack packs aimed at children's lunchboxes (or adults) such as mini boxes of raisins, cheese portions and mini boxes of prepared fruits. The unit price of these is so much more than the bigger packets.
Instead of these individual serving packs and snack packs, buy the bigger, more economical size. You can portion out into individual pots and reusable bags.
Don't buy prepared foods such as ready made potato salad, ready meals
You're paying for someone to do that preparation. Something you can do for free. One of the cheapest and more creative ways to save money on groceries is to buy the ingredients and make these yourself.
don't fall for the grocery stores dirty tricks
All grocery stores are designed from floor to ceiling in ways to make you spend more money than your list would indicate.
Grocery stores employ marketing consultants and psychologists to understand our behaviors and exploit our weak points.
Don't let them!
The tricks grocery stores use to make you spend more
Essential items like milk and bread are always at the back of the grocery store.
You have to walk through the aisles and are exposed to all the other tricks the stores use to catch you eye and encourage you to buy more than you planned.
Healthy fruit and veggies are always at the of front of the store.
Did you know these are at the front of the store so we shop there first and don't feel so guilty about the unhealthy things we add into our trolleys later?
Expensive brands are at eye level
Our eyes are drawn to things at our own eye level so expensive brands are always just there.
You need to look to the bottom or very top of the shelves to find the value and generic brands. Which are of course the foods to buy on a budget.
Tills covered with treats
You get to the checkout and think you're safe only to be hit with chocolate and sweets and a drink or 3.
If you've got kids and you've managed to say no until now, the chances are you'll give in at this point and buy them something.
Stay strong!
Bigger sizes not actually cheaper than smaller packaging
We are conditioned to think that bigger packet means lower unit cost (price per kilo) so we are more likely to buy bigger.
But this is not always the case. Always check the unit costing and use that to guide your buying
Leave out of date promotions on display
You think you've got a bargain and haven't.
If you don't realize at the checkout you've then got to decide whether to waste time queuing up to claim refund or suck it up.
It's worse if you don't notice the increased price until you get home.
This is one of my pet peeves. I HATE thinking I've found a bargain only to find I haven't. I feel cheated!
BOGOF deals (buy one get one free)
These are always on a premium branded product, never the cheap and cheerful store brands.
It can often still work out cheaper to buy 2 of the value or store brand than the BOGOF. Do your math (or rather, get your calculator to do it for you!)
how to spend less money on groceries At the store
Once you get to the grocery store there are still more ways you can be looking at saving money on groceries even as you move around the store.
Stick to your list
Remember to stick to your list, this is the most important tactic of all when you are looking at how to spend less money on groceries right now.
Starting out your list might not be perfect but stick with it and within a few weeks you will be an expert at both writing your list in advance and sticking to it.
Fresh produce sizes
When buying fruit by the pound/kilo choose the smaller sized fruits. That way you get more individual fruits for the price. Apples and oranges are great examples of this.
When buying fruit by the cost per item the opposite is true. Focus on buying the largest item as it costs you the same as a smaller one.
Broccoli, cauliflower and rutabaga/swede are good examples for this tactic.
Buy the generic and store brand
Don't buy premium brands just because.
Generic and value brands cost much less than premium and taste just fine in their own right. In fact some of them have the exact same ingredients as the premium brand and are made by the same company in the same factory!
Premium brands cost more partly because the manufacturer needs to recoup all the advertising money they have spent trying to tell us their product is best!
Tips to save money on food shopping every week? Go generic for everything, you'll save so much money.
Cut back on alcohol
Or stop buying it from the store altogether. Alcohol is expensive and many governments add a whole heap of tax on top of the base price.
If you don't want to forgo alcohol completely (and I am with you on this one) then cut back or switch to a cheaper brand.
I usually buy generic spirit and wine brands to keep costs down.
Check the unit prices
(it's in very small print on the shelf edge label). Sometimes smaller packets are cheaper than the bigger ones. Never presume the bigger packets are better value.
Buy bigger cuts of meat
Rather than a one meal size of ground/minced beef, buy the large family pack.
Buying the big cuts of meat to use for more than one meal, you can use the extra meat for other meals and soups. You can also cut the meat into smaller pieces and freeze the excess.
Don't buy sandwich meat
Use the tip above and use home cooked pork and chicken in your sandwiches instead. Far superior in taste and far cheaper.
Buy frozen fruit & veg instead of fresh
These can work out cheaper per kilo, have just as many nutrients in them due to the quick freezing process. And there is no wastage at all.
Its better for both your shopping budget and the environment.
Buy a whole chicken
Whole chickens are much cheaper per lb than chicken breast so buy whole and learn how to cut it up.
If you are not into cutting up chickens (and I am not a fan) then chicken legs or thighs are much cheaper than breast. Personally I think legs and thighs taste better than breast anyway.
Chicken is one of the best things to buy at the grocery store on a budget, it's a staple of my budget grocery list and the one meat we have continued to buy whenever money has been tight.
Buy frozen fish
Fish is expensive whatever form you buy it in, in comparison to many meats. But frozen is definitely cheaper and more accessible than fresh fish.
In the UK there aren't many fishmongers around so those that are left tend to be on the very pricey side.
Buy canned food
It lasts for ages and means you've always got non-perishable items to fall back on when tough times hit.
Buy seasonal
Choose the fruit and vegetables for your meals based on what is in season. Asparagus out of season is much more expensive in the UK. The same goes for strawberries.
For more help, advice and tactics to completely overhaul your food bill click here:
grocery shopping cheaply is about making Changes on the fly
Dented items
Check out the dented section of your local store for reduce cans and packaging. If you see items that you would normally buy but aren't on your list this week, buy them anyway.
This is a one of the more unique ways to save money on groceries, stocking up on your usual items at a much cheaper price.
Check out the fresh clearance section
Most grocery stores have a clearance section with bargains to be had. These tend to be near dated products that will need either freezing immediately or using up in pretty quick time. You can get fresh clearance items for half price or less if you time it right.
It makes sense to change your meal plan on the fly when you spot something cheap that you would usually pay full price for.
how to save money on food when you hit the checkout
Bring your own bags
Don't pay for bags each week, bring your own reusable ones.
It's not only cheaper, it's better for the environment to reuse something over and over again rather than have new bags being used every day (paper or plastic).
find coupons and use them strategically
Coupons done right save you money that you would otherwise have spent.
Coupons done wrong mean you save money that you wouldn't have spent.
What do I mean? Coupons are often for premium brand products. If you never buy premium brands then will a coupon actually save you any money at all?
When you are just starting out it is wise to learn the best ways to save money on groceries without coupons before adding coupons into your shopping habits.
When I've got coupons I always check the products full price, then the discounted price. Then I compare it to the value or generic brand I would have bought.
99 times out of 100 the value brand is still significantly cheaper than using that coupon on a more expensive brand.
So I don't use the coupon because I'm going to spend more money in reality.
Check your trolley
Before you get to the checkout check what's actually ended up in there and remove items not on your list or extra snacks sneaked in.
As much as you and I might try to only ever stick to our grocery list, extra items somehow jump into our trolleys without our knowledge.
Be wise to these secret trolley jumpers and remove them before you end up buying them.
Related post:
My 5 Minute Grocery Store Hack That Will Save You Money
Get cashback on your shopping
Using a rewards card or credit card which rewards you with cashback is a great way to earn or save a little money when you're buying stuff.
However, only use a credit card if you ALWAYS pay off your bill in full. There is no point earning 0.5% cashback if you are paying 20% in interest! And of course you don't want to be paying an annual fee if you can help it either.
Always check your receipt before you leave the store
Mistakes happen, too often for my liking. Whether it's deals that have expired on the computer but the shelves still show the discounted price.
Or clearance items being scanned through at full price.
You do not want to think you are paying one price for an item only to find when you get home that you've been overcharged. It's so annoying!
Checking your receipt before you leave the store means you can quickly pop back to customer service and get the mistake rectified.
If you find the error after you've got into your car or worse, when you get home, you are highly unlikely to bother getting the money back.
It would cost you more in fuel, parking and time to claim these small amounts back. But it is your money so do not shy away from asking for the mistake to be rectified.
grocery saving tips to do when you get home
Scan your receipt through Fetch
Fetch Rewards is the free grocery savings app that rewards you just for snapping pictures of your receipts. That's really it.
You get free rewards on groceries on thousands of grocery products and household items every day, no matter where you get your groceries. Just scan your receipts to receive rewards.
Use code "APREWARDS" to redeem 3K points!
fill your freezer
Use your meal plan to organize your fridge and your freezer. Foods you will be eating during the next couple of days can go in the fridge.
Foods (especially meat and fish that you won't be eating right away) can be frozen to keep fresh.
use less meat
I find that many recipes that use meat seem to presume we should be eating 1/2lb of meat each!
Not only is this amount of protein unnecessary, it's expensive! Cut back on the meat in your meals and bulk out with extra veggies, lentils, oats and beans. This bring down the average cost of your meals nicely.
Love Leftovers
Unless you are great at portion sizing then you will have leftovers from some meals. Do not throw them away!
Turn them into a lunch for work or incorporate them into a totally new meal. You can usually freeze leftovers so they don't need to wreck your meal plan.
simplify meals
Ingredients cost money, the more you have in each meal the more expensive that meal is likely to be per portion.
Focus on simple delicious meals that involve fewer ingredients, and limit exotic ingredients to occasional use.
109 Of The Best Cheap 5 Ingredient (Or Less) Recipes
Cook cheap meals
Meals with fewer ingredients are likely to cost less than those with many ingredients but they can still be expensive meals.
Focus your meals on using cheaper ingredients so the whole meal is cheap. Meals made with rice, pasta and beans can cost less than $1 per portion.
55 Cheap And Easy Meals You Are Going To Love
home Baked goods
Homemade snacks are so much more tasty than shop bought junk food.
Sure they take longer to make than picking something off the shelf but they are often cheaper and healthier, with less additives.
67 Cheap And Easy Savory Snacks To Make At Home
Grow a garden
Growing your own food can work out cheaper than buying your fruit and veggies from most grocery stores. Especially if you concentrate on growing the more expensive products.
If you don't have a garden you can still grow fresh herbs on your windowsill and things like tomatoes and beans in pots on a balcony.
21 benefits of having an allotment and growing your own
pack your lunch
Lunch out at work can easily set you back $5 for a basic sandwich and ramp up to $10 in no time if you opt for something a bit more plush or add in a drink and a snack.
Instead, take 10 minutes each day to pack a lunch. It will be more tasty and certainly save you a good chunk of change each week.
Use dried beans
Dried beans are cheaper than their canned counterparts, because you need to do a little extra work to get them to their ready state.
But putting in this extra work (I'm talking soaking overnight and maybe a short pre-cook depending on the bean) saves you money
I bulk prepare beans to save time. I soak an entire bag of beans and pre-cook them the next morning.
Then I portion them out into recipe serving sizes and freeze them, ready to take out when needed.
Invest in a slow cooker
A slow cooker is the perfect tool to use to that not only saves money but also saves time. You can quickly prepare a meal in the morning and come back to it fully cooked later that night.
Not only that, you can batch cook multiple portions in a slow cooker. Cook once, eat twice (or three times).
Freeze the extra portions you make so you have home cooked ready meals in your freezer for busy days and tired nights.
meatless meals
Meat is often the most expensive ingredient in a meal so if you take it out then your meals just got cheaper.
I'm not advocating becoming a vegetarian but having a couple of meatless meals each week will really help to cut costs.
Love beans
Beans are a great source of protein and fiber and are super cheap. Use them to replace meat or focus on meals that use beans as a main ingredient. My favorite bean meal is 5 bean chilli.
Spice mixes
Shop bought spice mixes sure are convenient. But we are looking at how to save money on groceries and spice mixes is one place you can save money.
Make your spice mixes and you can get the flavors just right for you. Make your own spices mixes instead of buying ready made.
simple ways to save money on groceries
As you can see there are so many different ways to save money on your food shop. It's not just about seeking out cheaper products.
You need to think tactics, plan and prepare where you shop, who you take with you (no-one) and what meals you are going to eat.
Put these all together and you can save big on your grocery bill. You don't even need to follow every tip, use the ones that work best for you. Try new ideas to see if they work too.
For more help in taking back control of your grocery spending join the free grocery budget challenge.
Come and follow me on Pinterest for more money saving hints and frugal tips!
Last Updated on 18th March 2022 by Emma